One of the main criteria when extending our house was storage; the Holy Grail all large families seem to be in search of and certainly never have enough of. But as the older boys have pared down their "toys" in the last few years to nothing but gadgets and the odd box of Lego, which I hold onto out of a) nostalgia and b) for those days I'm being a proactive parent, have banned gadgets (WHY?!?) and hear "I'm bored!!" every 37 seconds; it's not them that needs the storage – it's me. No, not for my abundance of clothes, shoes or Tupperware, but for the goodies I insist on stock piling when they're on special in Tesco! I bloomin' love a bargain (you only have to see my recent charity shop coat post on Instagram as evidence) and when it includes life necessities like nappies, baby wipes and bubble bath, I'm all over it like chicken pox on a toddler.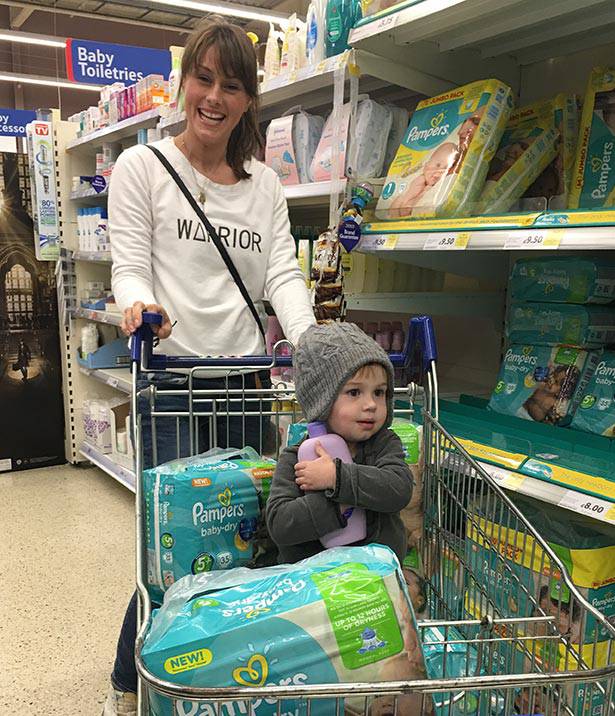 Luckily for me and my freshly made, empty cupboards, Tesco Baby Event has come at a perfect time, running until 1st February. You can shop all the bargains online, delivered to your door, so you don't have to turn off Paw Patrol cuing a major tantrum or don socially acceptable clothes cuing an adult style tantrum! In case you were wondering, here are my top buys that I'll be stocking up on this January…
Pamper's Baby Dry Nappies
What with Casper's latest phase of taking his nappy off, by himself, at any given moment, we're ripping through them at a crazy rate of knots. I've given up using any other type of nappies other than Pamper's Baby Dry – only as Cas seems to consume his body weight in water on a daily basis, so these bad boys keep the number of wet trousers to a minimum. Pampers Baby Dry Size 5 Essential Pack 39 Nappies are a brill Buy One Get One Free – yes, that's a bogof – there's got to be a pun there somewhere between nappies and bogs?
Johnson's Baby Wipes Extra Sensitive
The uses for wipes in this household are endless – whether it's super soft baby bums, mucky boy faces or my mascara, the extra sensitive ones are perfect for all of our peachy skins. Johnson's Baby Wipes Extra Sensitive 12 Pack is massively reduced!
With its "natural blend of relaxing aromas" let's hope it gets Casper to sleep through the night – if not, at half price, I'll douse myself in it and I'll certainly sleep like the proverbial baby (clearly a phrase coined by those who didn't actually have a baby!).
Other great deals include:
Tommee Tippee Closer To Nature 6X 260ml Bottles
Oilatum Junior Cream 150ml
Aveeno Daily Care Moisturising Lotion 150ml
Carex Kids handwash Strawberry Laces 250ml
This is a sponsored post in collaboration with Tesco Groceries – but as ever, all tales, comments, opinions and rants are my own.